How to write CV profiles, personal statements, career aims and objectives.
A Career Aim, Personal Statement or Profile can be a useful way of flagging an interest and skills for a particular career on your CV, particularly if you have no relevant degree or work experience to give your CV focus. When profile is used used on this page it can be assumed that personal statement could have been used in its place. A profile is only part of a CV so this section should be read in conjunction with our CV examples.
What do you call it?
CAREER OBJECTIVE?
CAREER AIM?
CAREER ASPIRATION?
CAREER GOAL?

PERSONAL PROFILE?
PERSONAL STATEMENT?
KEY ATTRIBUTES?
ABOUT ME

My own preferred title is simply:

PROFILE

Focuses on the type of work you wish to get into.

short and to the point.
contains a sentence or two about the type of work you are aiming for.
a few lines about the attributes which make you suitable for the role.
You can even call it nothing at all. If it's in the usual place at the start of the CV you can just have an un-named paragraph.
Is it necessary?
What is the difference between a personal statement and a covering letter?
A profile is a short introduction to your CV, whereas a covering letter is a one page letter going into much more detail about why you are suitable for a specific job and organisation. There will inevitably be some overlap in content, so try to write any similar content using different words (use a thesaurus) and from a slightly different perspective.
Because your profile will be on all your CVs, you normally just mention the particular job sector you are applying for jobs in (e.g. publishing). A covering letter is normally used to apply for a specific advertised vacancy and so will focus on a particular job (e.g. editorial assistant in a particular publishing company). Sometimes you may send out a speculative covering letter with your CV and here the focus will be broad, just like in the profile, as you don't know which jobs might be available.
Profile Content

Covering Letter Content

State the JOB SECTOR you're applying for e.g. publishing
Summarise your strengths.
When you're available to start

State the JOB you're applying for e.g. editorial assistant.
Where you found out about it (advert in The Guardian newspaper etc. - organisations like to know which of their advertising sources are being successful)
When you're available to start work (and end if it's a placement)
Why you're interested in that type of work
Why the company attracts you (if it's a small company say you prefer to work for a small friendly organisation!)
Summarise your strengths and how they might be an advantage to the organisation.
Relate your skills to the job.
Mention any dates that you won't be available for interview
Thank the employer and say you look forward to hearing from them soon.
What if I have no idea of what job I wish to go in to?
In this case it might be better not to include a profile. An unfocused profile is worse than none at all. However, a carefully worded summary of your key strengths and attributes will enhance your CV.
How long should it be and where do you put it?
No longer than six lines - some sites suggest a maximum of 4 lines. It must be short and positive with your key strengths, skills, experience and interests. It is mean to be an appetiser rather than to give the employer indigestion! The time to elaborate and give evidence for these is later in the CV.
Place it at the start of the CV. Recently I've seen some CVs with the statement half way through the CV or at the end. This seems to defeat the object, which is to give a concise introduction to your aims and skills.
Start with a short description: "A highly motivated graduate who has just completed a Law degree at the University of Kent"
When badly written, they are vague with sweeping generic statements: "I have good teamworking and communication skills" sends selectors to sleep as it appears so regularly.
Use a Thesaurus or see our Skills Map for better words to use!
Learn to use action words to brighten up the content.
Analyse your core strengths. A profile is a sales tool: a concise summary of why they should take you, so you should include brief details of your major selling points, especially those that are important in the job you are applying to.
CVs sent to recruitment agencies can benefit from a statement as a covering letter may become detached. Some agencies send you for unsuitable jobs and a career aim can help to prevent this. However the career aim here needs to be fairly broad or you may get submitted for few vacancies.
Avoid Buzzwords!
Buzzwords make you sound like just another faceless candidate, a plastic applicant with no real personality who just cuts and pastes from other people's CVs. According to a survey by LinkedIn here are the top 10 overused buzzwords used in LinkedIn Profiles in the USA in 2010
Extensive experience
Innovative
Motivated
Results-oriented
Dynamic

6. Proven track record
7. Team player
8. Fast-paced
9. Problem solver
10. Entrepreneurial
In other countries extensive experience was most used in the USA, Canada, Australia, dynamic was most common in Brazil, India, Spain, motivated was the most common one in the UK whereas in France, Germany, Italy, Netherlands, innovative ruled the roost. For more about this see the LinkedIn Article Stop Using These 16 Terms to Describe Yourself
The 2013 list of overused buzzwords in order were: Responsible, Strategic, Effective, Creative, Innovative, Expert, Positive, Passionate, Driven, Dynamic
THE GOOD ......

AMY BUCKSHEATH

14, Wychurch Road, Canterbury, Kent. CT2 7SJ.

Tel. 01227 - 764521 email ab999@kent.ac.uk

Profile


An adaptable and responsible graduate seeking an entry-level position in public relations which will utilise the organisational and communication skills developed through my involvement with Kent Rag and promotional work during vacations.

During my degree I successfully combined my studies with work and other commitments showing myself to be self-motivated, organised and capable of working under pressure. I have a clear, logical mind with a practical approach to problem solving and a drive to see things through to completion. I enjoy working on my own initiative or in a team. In short, I am reliable, trustworthy, hardworking and eager to learn and have a genuine interest in PR.

Education ........ (CV continues here)

The Profile normally starts straight after the personal details on the CV (these will be missed out in all the other examples to save space. See our CV examples to see how the profile fits in with the rest of the CV.)

Clear career aim and evidence of some involvement in PR related activities whilst at university. This is informative, factual and focused on the job in question and gives information that encourages the reader to delve further into the CV.

"Successfully combined my studies with work and other commitments". Public Relations is largely about juggling lots of different tasks successfully, so this is an important piece of evidence that she will cope with the demands of the job

Summariseskey attributes that make her suitable for PR jobs: initiative, drive, team-player, hardworking, meticulous, motivated.

Nice snappy ending to the profile

THE AVERAGE ......

Personal Statement

I am an energetic and enthusiastic person who enjoys a challenge and achieving personal goals. My present career aim is to work within IT because I enjoy working with computers, I enjoy the environment and I find the work interesting and satisfying. The opportunity to learn new skills and work with new technologies is particularly attractive to me.

This statement is very bland: too vague and makes broad general statements.

This is a good example of where it would be better to use no statement at all as it adds nothing to the CV. If you are not sure leave out the profile and use your covering letter to sell your skills instead.

AND THE UGLY!

Personnel Statement

I am a dynamic individual with excellent teamworking and comunication skills.
I would like job in business.

It should be Personal Statement NOT Personnel!

CoMunication is spelt wrongly here - should be coMMunication.

Avoid hackneyed phrases such as "I have good communication skills and work well in a team" They sound vague and vacuous, send selectors to sleep.

A very vague career aim.

Statements such as "I am a dynamic individual" can sound arrogant unless well written, and more importantly backed up with evidence later in the CV, otherwise they can sound just like hot air! Although see our Confident Covering Letter to see how this strategy can be made to work effectively

MORE EXAMPLES

Profile

I am looking for management training which offers me the opportunity to develop new skills while strengthening those I already possess.

My degree in History has enabled me to develop good organisational skills, an analytical/logical approach to tasks and the ability to work under pressure. I am able to work well both on my own initiative and as part of a team.

My main strengths are adaptability, dependability and the determination to get a job done as proven by my varied work experiences in retail, catering, hospitality work, teaching and patient care. I try to learn something new from every experience because I believe there is always room for self-improvement both personally and professionally.


Fairly broad career objective: she's trying to keep her options open here.

Sells the skills she has gained in her degree.

Summarises her main strengths and relates these to her work experience.

Nice last line about self improvement. Employers particularly like graduates who are up for new challenges.

About Me

I have a visual impairment (full details are available on request), but this has not in any way prevented me from successfully completing a demanding degree course and further education qualifications. Far from being a disadvantage, this has increased my awareness of the needs of others and has increased my determination to succeed and to persevere when obstacles are placed in my path.

This focuses on the applicant's disability, but rather than deterring the selector, it sells the skills she has gained from overcoming her disability ; awareness of the needs of others, determination and perseverance. It is short, to the point and effective.

Interesting title: About Me. This is a more informal title that might work well in the creative and media fields.

Personal Statement

A graduate with strong communication and organisational skills gained in nursing, now seeking to move into a career as an analytical chemist. Whilst my degree is in forensic science a large majority of the course consisted of chemistry, as highlighted by the list of modules completed on my course shown below. I feel I have learned more than just the theory behind Forensics but also many fundamental skills for my career and life.

As I am a mature student I have other qualities to bring to the work place such as good team work, organisational skills, efficiency and I am very meticulous, I show pride in all the work I do, I work well under pressure and I love a challenge. I posses excellent verbal and written communication skills and am able to relate to a wide range of people. All these skills have been enhanced during all the work experiences I have gained over the years.


Profile for a mature student.

Starts with her objective. Also sells her degree, even though it's in a slightly different field to that she is applying for, by listing relevant modules (not shown here of course: see the science CV).

Sells the attributes she brings to the workplace as a mature graduate: pride in work, gets on well with a range of people.

Also says she has some of the key skills required by forensic scientists: meticulous, efficient, organised.

Career Aspiration

To enter a graduate training programme in multimedia, preferably in the new-media sector where my creative initiative, ideas and a genuine enthusiasm would allow me to progress.

I have a good working knowledge of many industry leading software applications such as Adobe Dreamweaver, Photoshop and Autodesk Maya. I work to the highest standards and have an eye for detail with skills in design and organisation. Completing my course projects has taught me to provide originality and quality whilst successfully meeting deadlines.

A clear, well written objective here can help to stand out from the crowd in the competitive area of the media or multimedia.

Gives brief evidence of technical skills. More details would be given later in the CV.

Evidence of core competencies needed in the work: originality, quality, attention to detail, organising, and deadline orientation.

A versatile IT graduate, possessing strong motivational drive to succeed in the industry.

Highly developed skills in problem identification and implementation of effective solutions. Comfortable with analysing and understanding data, working under time pressure and presenting myself in a professional manner. Excellent inter-personal communication and social skills built through extensive training with the Samaritans. A friendly, mature and flexible individual with a proven entrepreneurial approach towards objectives and tasks.

Here there is no heading to the profile. It's obvious that it is a profile by the content, and with CVs, the simpler it is, the better!

A very confident profile. Written without the use of personal pronouns (I have ....) to save space.

Second paragraph is rather dense and might be better broken up by the use of bullets or smaller paragraphs to make easier to read.

Career Aim

A Business Administration graduate from the University of Kent. He has skills and knowledge essential for managing key areas of an organisation and the problem solving skills needed in finance. He is looking for a graduate trainee post in marketing where he can use his strong influencing skills.

Through his studies, work and voluntary roles he has acquired the ability to meet deadlines while maintaining a high standard of work. He possesses a good telephone manner and is able to relate to a wide range of people.

Clear objective, although a bit confusing - mentions both finance and marketing!

Targeted at the skills required for the job :

This is written in the 3rd person (he rather than I) as if written by a referee. This seems to be a modern trend recommended by some recruitment agencies, but I'm not keen as it seems rather false and impersonal.

Key Attributes

Self motivated graduate with well developed project management and IT skills combined with a flexible attitude to work.
A critical thinker with strong analytical skills
Strong team-player skills developed through work in retail, in group laboratory experiments associated with the degree, and in particular group presentation work, in which good marks were achieved.
Good organisational skills developed in a variety of deadline orientated situations.
Get on well with people at all levels, easily making good working relationships.
Have good presentation skills combining sound analytical research and clear verbal explanation.
Seek out new responsibilities irrespective of reward and recognition.
Strive for quality in everything I do.

Uses "key attributes" instead of profile here.

A bulleted list here. Looks well organised and easy to see the key points, but a short paragraph of prose is warmer and more friendly. Action words are well used here.

Misses out the personal pronoun and verb here (I am ....). This saves space and gives a cleaner look.

Project management skills are increasingly in demand so sell course projects and especially group projects.

Also evidence for other relevant skills: presenting, quality focus, people skills and team working.
Also see Personal Statements for Postgraduate Study and Personal Statements for Teacher Training
Back to CV and Covering Letter Examples Home Page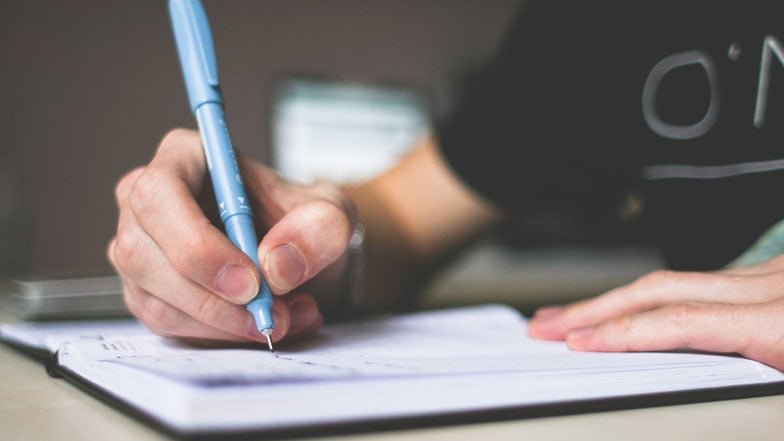 by Michael Cheary
OK, so putting a personal statement together is never easy…
But even if you've written one before, how you write a personal statement will always depend on your current situation. In other words, what you write as a school leaver will look a lot different to someone who has many years of previous work experience.
To help you find the right one for you, here are some real personal statement examples – and how you can use them to make your CV stand out:
Free CV Template
Download Free CV Template
University personal statement 
First things first: personal statements aren't just for your CV.
They're also a key part of the UCAS application process, and a way to sell yourself to prospective universities. However, they will be much more detailed – and longer – than the one you write for a job application.
We've covered everything you need to know about personal statements for university here.
School leaver personal statement example
All personal statements should be tailored to the role in question. No exceptions.
Start by answering the following three questions: Why do you want to work in this industry? What skills make you right for the role (hint: use the job description)? And where do you want to go in your career?
However, school leavers should always focus on the latter – and what you can bring to the business, as well as focusing on the knowledge and skills gained through education, rather than employment history. Soft skills are also a great place to start.
Example:
A highly motivated and hardworking individual, who has recently completed their A-Levels, achieving excellent grades in both Maths and Science. Seeking an apprenticeship in the engineering industry to build upon a keen scientific interest and start a career as a maintenance engineer. Eventual career goal is to become a fully-qualified and experienced maintenance or electrical engineer, with the longer-term aspiration of moving into project management.
School leaver CV template
Graduate personal statement example
Similar to a school leaver personal statement, but with extra attention paid to specific things you've studied during higher education.
Once again, try and explain why you're applying and where you'd like to go in your career, as well as the specific skills or knowledge you can offer. But try and drop in a few more details on your degree (projected grades are fine), as well as particular modules that have inspired you to work in this profession – if possible.
And remember: a personal statement written for a CV differs greatly from one written for a university application. If you haven't written one before, you should start by reading our tips on how to write a personal statement.
Example:
A recent business economics graduate with a 2:1 honours degree from the University of X, looking to secure a Graduate Commercial Analyst position to use and further develop my analytical skills and knowledge in a practical and fast-paced environment. My career goal is to assume a role which allows me to take responsibility for the analysis and interpretation of commercial data for a well-respected and market-leading leading company.
Graduate CV template
Unemployed/redundancy personal statement example
Dealing with redundancy is never easy. But when dealt with in the right way, it needn't be a hindrance when making applications.
Put the main focus on your employment history, and provide further information for your break in your cover letter. You don't even necessarily need to mention it again, if you've already explained it elsewhere.
Remember, your personal statement is intended to sell yourself. So emphasise your positives rather than apologising for a negative.
Example:
Driven Retail Manager with over ten years' experience in the fashion industry. Proven track record of success, including managing the top performing store in the region, and having the lowest staff turnover rate of all UK outlets. Currently out of work due to company closure, looking for the right opportunity to bring my expertise to a well-established fashion brand in an upper management position.
How to: Deal with redundancy
Redundancy CV template
Career break personal statement example
There are many good reasons someone may need to take a career break.
Some possible examples could include parental leave, caring for a family member, plans to travel or long-term illness. However, whatever the reason for your own break, it's never something you should feel the need to justify to a prospective employer.
In fact, knowing how to explain a gap in your CV is mostly about confidence. So leave any extra explanation for your cover letter and focus your personal statement on your career before the break – and any skills learned during your time off which may be applicable to the role.
Example:
A highly motivated and experienced PA, currently looking to resume my professional career after dedicating the last five years to raising a family. Excellent admin skills, thorough knowledge of all Microsoft Office programs, as well as proficiency in minute-taking and extensive experience liaising with clients. After volunteering for one day a week with a local charity to refresh my skills, now fully committed to continuing my career on a full-time basis.
Career break CV template
Career change personal statement example
If you're changing industry completely, think about any transferable skills and applicable to the sector you're moving into.
Any numbers you can give to demonstrate your success could be crucial – even if you're moving into an area where your expertise may seem slightly different. So always aim to back up your claims with real examples.
Focus on one or two achievements, demonstrate the impact they had, and you'll instantly start adding value to your application.
Example:
As an experienced sales manager, my tenacious and proactive approach resulted in numerous important contract wins. My excellent networking skills have provided my team with vital client leads, and my ability to develop client relationships has resulted in an 18% increase in business renewals for my current organisation. After eight years in sales, currently seeking a new challenge which will utilise my meticulous attention to detail, and friendly, professional manner.
Changing careers: What you need to know 
Career change CV template
Final thoughts
If you're still not sure of what to write, don't panic.
Crafting a winning personal statement will take time, especially if you haven't written one before. Use these examples as a loose structure to follow, and you'll be able to add to them as your experience grows.
And remember: you should always aim to edit your personal statement for each role you apply for. That way, you can ensure you're really selling yourself to their role, rather than simply sending the same generic statement for each application.
It should only take a few more minutes to complete. But if it's enough to attract an employers interest, it will be time well spent in the long run.
How to write a personal statement
Personal statement dos and don'ts
Read more CV help & tips
Still searching for your perfect position? View all available jobs now.